Helen Russell & Company
Saturday November 25, 2023 at 2:00 PM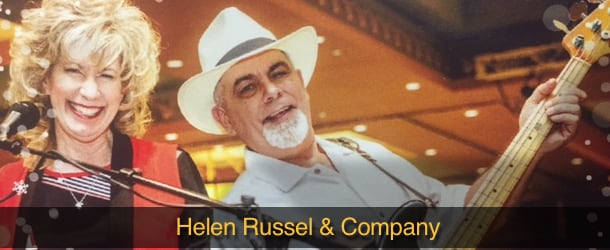 A little bit of country and a little bit of rock 'n' roll
Helen Russell & Company call Osage Beach, Missouri home and have recently returned from touring the Rio Grande Valley in Texas, where they were awarded "Best Small Band Variety Show" by the Valley Star Awards for the fourth year in a row, as well as "Entertainers of the Year" for two years in a row! They are excited to be returning to the Ohnward Fine Arts Center with a show that will put you in the and entertain you with great vocals, scalding piano, hot licks on the banjo and a jumpin' bass guitar with a variety of live Christmas tunes as well as Country, Bluegrass, Rockabilly, Gospel and Classic Rock music of the 50's to the 80's, plus a tribute to our Veterans! Crowd pleasing comedy and impersonations make this a Show that will leave you 100% entertained!
Tickets:
$22(in advance) $25(at the door)
Students (18 & Under) Tickets:
$13(in advance) $15(at the door)
Date and Time
Saturday Nov 25, 2023
7:00 PM - 9:00 PM CST

Saturday, November 25, 2023
7:00 pm
Location

Ohnward Fine Arts Center
1215 E. Platt St.
Maquoketa, IA 52060
Fees/Admission
Tickets:
Adult $22 (in advance); $25 (at the door)
Students $13 (in advance); $15 (at the door)

Tickets can also be purchased at The Ohnward Fine Arts Center 563-652-9815 (from 9:00 am - 1:00 pm Monday - Friday), Osterhaus Pharmacy and the Maquoketa State Bank Main Office, Hartig Drugs in Preston and the Bellevue Pharmacy in Bellevue.

Tickets are also available on line at www.ohnwardfineartscenter.com.

Run time for show is approximately 2 hours!
Beer, Wine and concessions will be available at the show!

Contact Information
Ohnward Fine Arts Center - 563-652-9815 Mon-Fri from 9am - 1pm